KOSMO Q
QUANTUM BLOCKCHAIN
NETWORK
A global QUANTUM network for:
- Secure Key creation,
- Secure Key Management,
- Secure Policy Management,
- High Speed Quantum Random Number Generator.
KOSMO Q
CREATING TRUST
IN TRANSACTIONS
need more information ... send us an email
QUANTUM BLOCKCHAIN
STRONG SECURITY FOUNDATION with MULTI-BLOCKCHAINS
Integrated Network
TRUSTED SECURITY
The 'Trusted Security Platform' has integrated global network nodes replicated in major cloud hosted centres and centrally managed.
Hybrid Blockchain Cores
MULTI-BLOCKCHAINS
A global multi-blockchain network, fit for purpose, for tokenised assets, complex smart contracts, unified transactions and fast settlements.
Complex Process
SECURE KEY MANAGEMENT
This includes generating, exchanging, protecting, storing, using and replacing encryption keys throughout their full life cycle.
Cryptographic Management
SECURE POLICY MANAGEMENT
The cryptographic key management system provides policies, procedures, components and devices to protect, manage and distribute cryptographic keys.
High Speed Generation
QUANTUM RANDOM NUMBERS
KOSMO Q utilises high speed 'True Quantum Random Number Generators' (TQRNG) to produce numbers that are truly random.
Security Compliant
INTEROPERABILITY
The entire KOSMO Q system is highly flexible, interoperable and can communicate and exchange data with other major global networks
A GLOBAL FIRST
light speed transactions, multi-blockchain technology and capacity to spare
Marketing material for KOSMO Q Technology Partners and Licensees.
UNIQUE TECHNOLOGY
unique building block foundation
qubits
KOSMO Q no longer deals with bits and bytes ('1' and '0') of data but rather utilises computational quantum objects (photons, molecules, electrons etc..).
superposition
KOSMO Q computations use light particles that exist in multiple states at the same time to process information and to simultaneously investigate certain paths.
entanglement
A unique type of superposition where two or more qubits interact with dependency, even when there is a large distance between the particles.
no wrong answers
KOSMO Q processes information with simultaneous investigations where paths that lead to wrong answers are made to interfere destructively.
unique principles
The KOSMO Q network encompasses unique operational principles that can crack current cryptography based transactions and can quickly locate large prime numbers.
lattice fields
KOSMO Q utilises 'lattice based' cryptographic methods to create exceptional security layers within the communications media.
tunnelling
KOSMO Q utilises a wave effect in quantum mechanics, known as tunnelling , to pass particles through potential barriers or classically-forbidden energy states.
resistance
Quantum resistance is the process that current cryptographically protected transactions utilise to protect against quantum computation.
performance
KOSMO Q has increased computing capacity, transactional speed and the production of 'random numbers' to create unbreakable cryptographic keys.
HCO REGISTRATION
The HCO process will start shortly so register your interest below.
MARKETING CAMPAIGN
The 'PARADIGM' campaign.
numbers generated per second
KOSMO Q - BASE NETWORK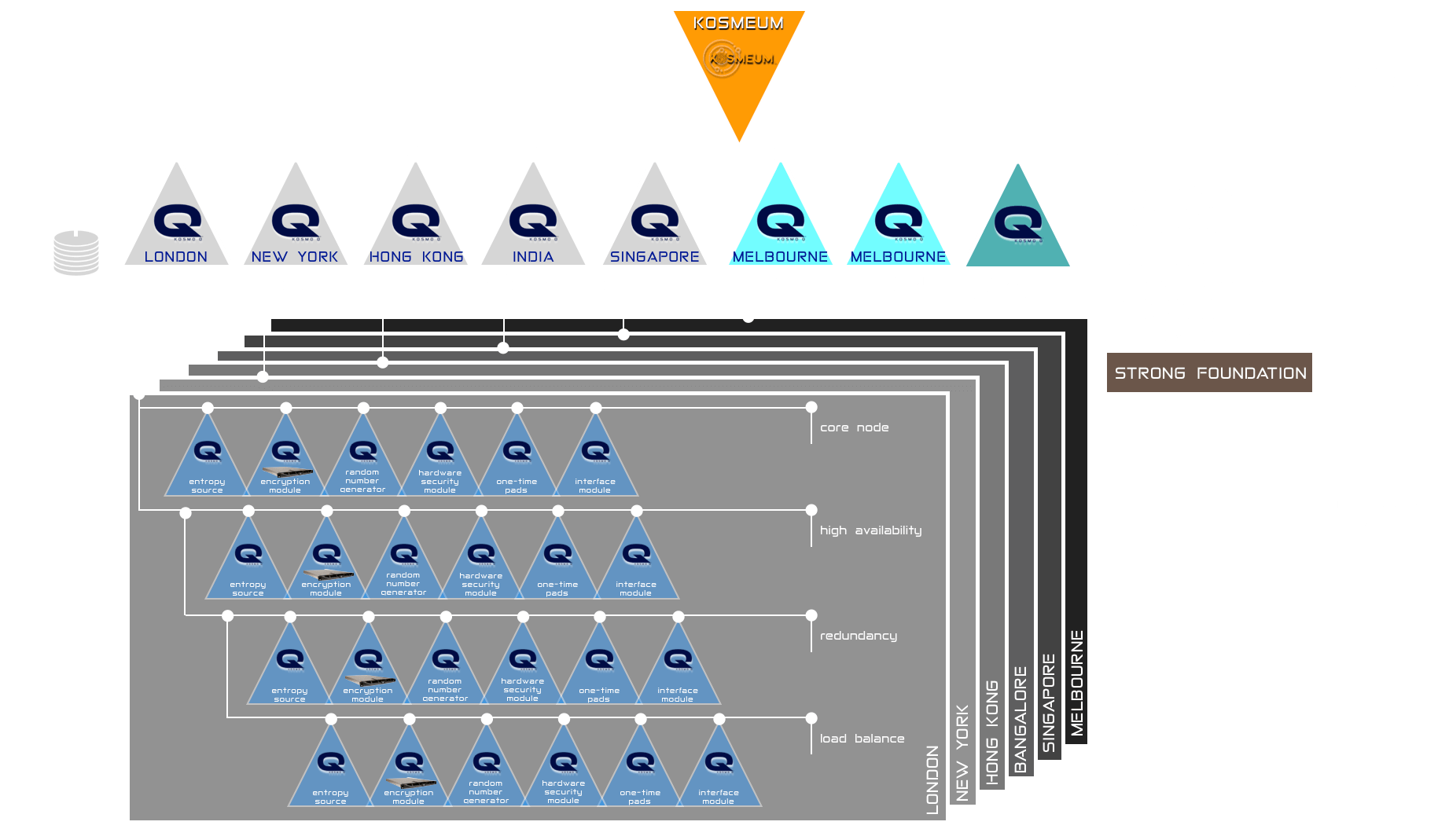 System configuration, specifications, token details, values or timing may alter without notice.
KOSMO Q - TIMELINE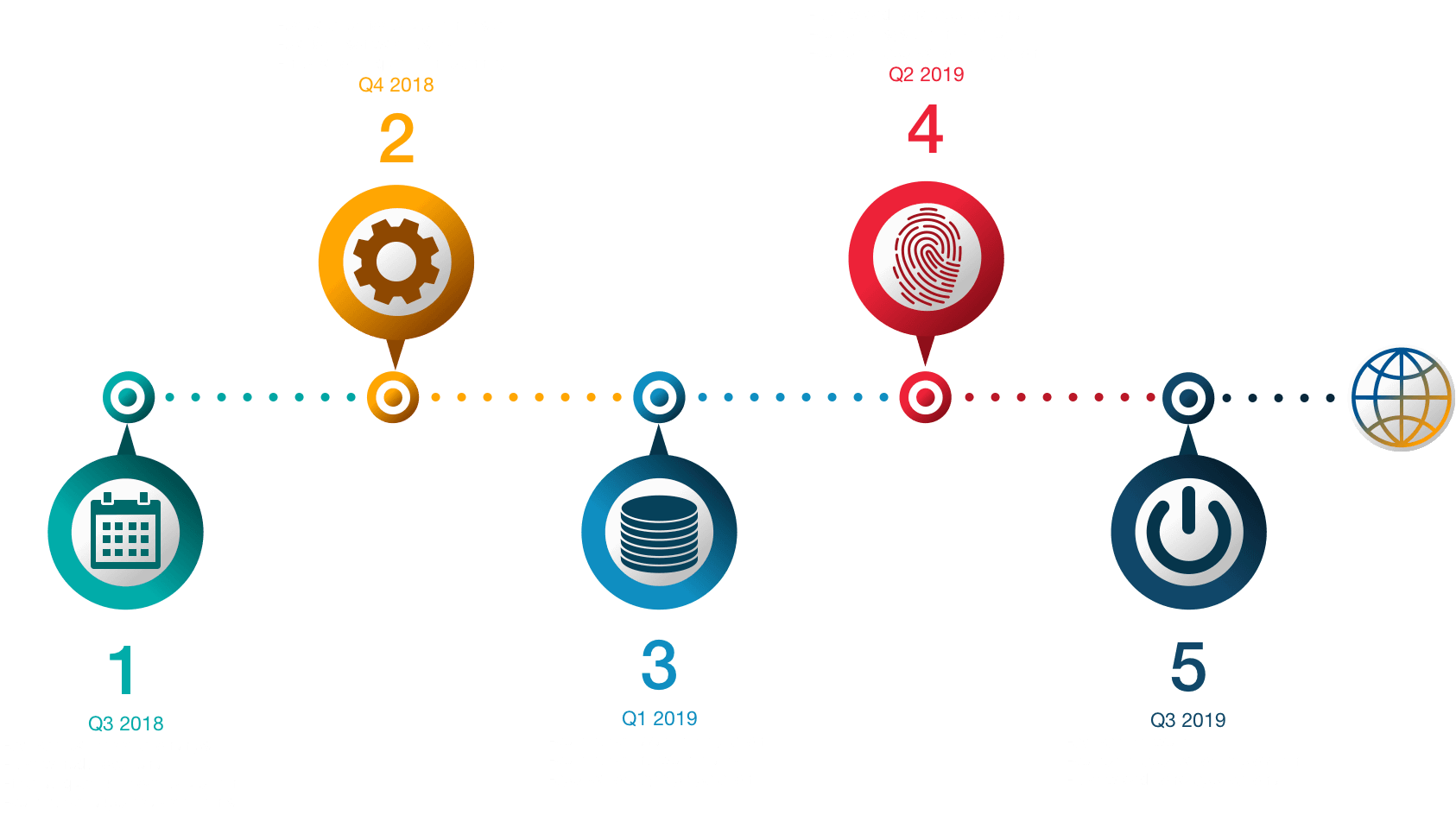 System configuration, specifications, token details, values or timing may alter without notice.